26 Nov

Top Choreographer Picks By Bombay Paparazzi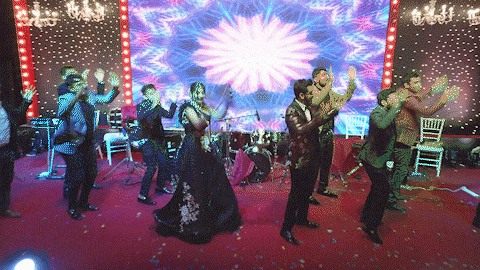 No Indian wedding is complete without Naach Gaana. In fact, musical events always bring together all the guests for an unforgettable evening můj odkaz. So, for all those who have been planning the sangeet in their head since ages, we bring to you a list of kick ass wedding choreographers to choose from. From themes to scripts, mastering the steps at rehearsals, and unlimited fun, you are in for treat! Here goes…
Choreofunk Entertainment: Just as their name suggests, Choreofunk is going to add the entertainment tadka to your evening. The team makes sure to get all the non-dancers up on the floor, because they have steps for everyone from novices to experts. With over 5 years of experience, the team travels across the world delivering the latak-mataks and spreading cheer and fun!
2. Vidhi Bhatia: To Vidhi, dance is a language, a beautiful way of communicating your emotions to the couple. Along with insane energy she adds feelings to each performance, be it a father-daughter dance, siblings setting the floor on fire, or bridesmaids making jaws drop. 😉 She loves incorporating unique steps to make each act stand out and memorable at-casinos.com.
https://instagram.com/danceitout_vidhibhatia?igshid=15640h7109sjc
3. Happy Feet: Their motto is simple, "Every dance has a story and we love to tell it." They are extremely passionate about dance, and that passion is infectious. All they want to do is dance and make people dance. Before each wedding, they get to know the couple's story, understand their choices and create special sequences with utmost attention to detail at-casinos.com.
https://www.instagram.com/happyfeet_choreography/?igshid=1j255b3rmm8z0
4 ed-danmark.com. Archi's Dance Academy: Along with some killer dance moves you are in for a long-term friendship with this team of choreographers. Coming up with unique steps to match your personality is their specialty. They cater to clients globally, offering online sessions too.
https://instagram.com/archisdanceacademy?igshid=uh910bz1qcnu
5. Lights Camera Dance: Trust Lights.Camera.Dance to come up with the most entertaining choreography concepts. A team of girl bosses Nirmiti and Aarohi, they are a perfect combination of innovation and creativity. Having catered to local as well as destination weddings across the world, they are sure to add the Dhamaka to your event.
https://www.instagram.com/lightscameradance.lcd/
6. Dhruvi Shah: Dhruvi is a ball of graceful energy and that is exactly what she brings to her clients. Her choreography is easy, effortless, and suitable for everyone to easily pick up. She is master of several dance styles offering brilliant concepts for everything from slow couple dances to peppy numbers for groups.
https://www.instagram.com/dhruvi.shah.dance/
Are you ready to rock and roll?